Intel's Tiger Lake H45 CPU's have entered the market just recently, making its way into different manufacturers' laptop lineups. We've had quite some time to check out its full power with its implementation in the ASUS TUF F15 laptop, and quite frankly, we've been blown away by its sheer power and underrated potential. Although we're getting slightly ahead of our full review, we can solidly say that it's really a system that can replace our current desktop. Read on to find out why.
Intel Tiger Lake H45: Pushing the Boundaries of Mobile CPU's
The Intel Core i7-11800H is part of the family of CPU's in Intel's 11th Generation of laptop CPU's. It sits right smack in the middle of the family, being the cheapest 8 core/16 thread implementation. It's also the only Core i7 CPU, sandwiched between two Core i9 and two Core i5 CPU's for the consumer mobile market.
Intel's 11th gen core microarchitecture draws power from its 8 Willow Cove CPU cores, which basically means that it's a massive generational leap from its previous iteration and aims to provide desktop-class performance to mobile systems. It's a system designed not only for gamers, but also for content creators, casual users, and business professionals due to its sheer potential computing power. It unlocks so much more practical usability, from everyday performance to intense applications.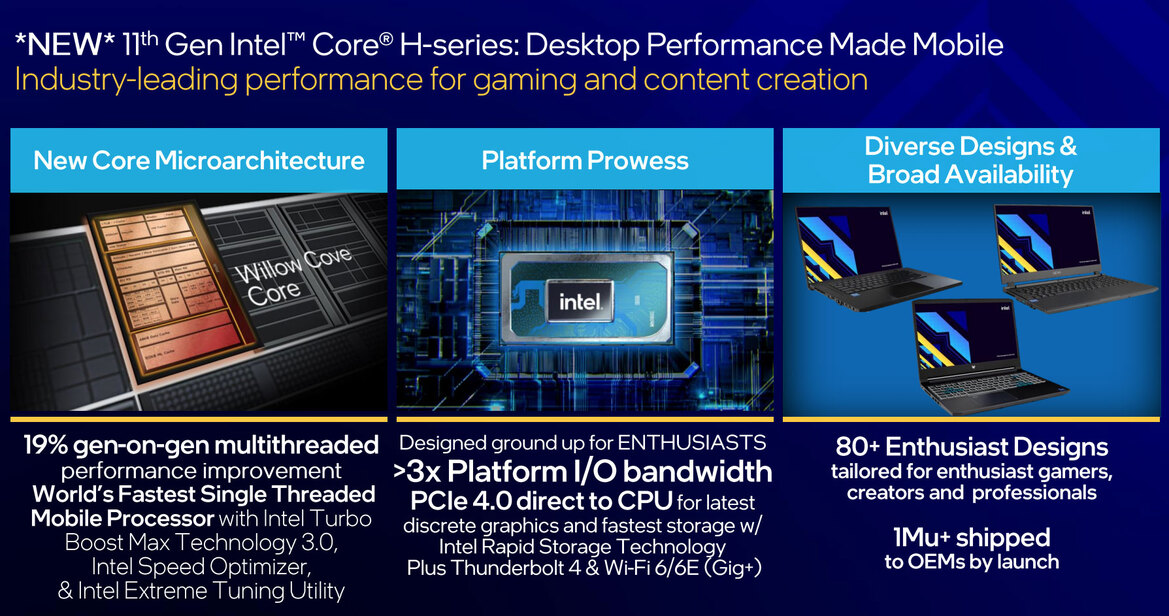 Intel's Tiger Lake H45 also features Intel UHD Graphics, 20 lanes of PCIE Gen 4.0, Thunderbolt 4 that enables up to 40Gbps transfer speeds, and Intel® Killer™ WIFI 6E. All of these features deserve their own descriptions, so here's a short explanation for each of them:
Paired with Nvidia Optimus, Intel UHD Graphics kicks in when discrete GPU power is not needed, thus enabling users to have better battery life.
PCIE Gen 4.0, which is double its predecessor Gen3.0, enables much faster bus rates from storage to CPU, which overall contributes to faster transfer rates and application loading times
Thunderbolt 4.0 is the king of all transfer ports right now. While it uses the familiar type-C connector, it offers blazing fast transfer speeds of 40Gbps. It doubles minimum PCIE data requirement from 16Gbps to 32Gbps from Thunderbolt 3.0, enabling faster connections to various storage devices and also enables connections to two 4K displays or one 8K display.
WIFI 6E is the latest in WIFI connectivity standards, and offers extremely low latency between router and devices, less external interference, and higher bandwidth capacity. Although internet speed is still mainly dependent on your internet provider, having WIFI-6E compatible devices and routers enables a smoother experience throughout.
These are major upgrades to any system, and are among the most coveted among current power users who value fast wireless and wired connectivity.
These features have been implemented in numerous systems from Acer, Asus, Lenovo, Dell, MSI and Gigabyte. Specifically, systems that have Intel's Core i7-11800H can also be found in the following laptops (availability in PH might vary):
ASUS ROG Zephyrus M16 and S17
Lenovo Legion 7 and 5 Pro
Gigabyte Aorus 15P (KD, XD) and 17G
Gigabyte AERO 15 OLED XD
Acer Nitro 5
Acer Helios 300
Acer Triton 500
Dell XPS 15, 17
MSI Katana GF66, GF76
MSI Pulse GL66, GL76
For this review, we test the Intel Core i7-11800H in the ASUS TUF GAMING F15 laptop. Coupled with an Nvidia Geforce RTX3060 GDDR6, 8GB of DDR4 2666Mhz memory, and a blazing fast 1TB NVMe SSD, it's quite a powerhouse in all aspects already. As with most Asus TUF products, it's already physically designed for mobile gamers. But with the Intel Core i7-11800H – it changes the very core of what this laptop can do.
ASUS TUF GAMING F15: Solid Build Quality
Earning the TUF Badge, the ASUS TUF GAMING F15 (FX506HM-HN094T variant) is a laptop that screams gaming. It packs a mighty system in a hefty plastic body. It's slightly heavy at 2.30 Kg (5.07 lbs), with dimensions at 35.9 x 25.6 x 2.28. It's thick and meaty just like how some gamers like their gaming devices.
In addition, it also has a military grade standard (MIL-STD-810H standards) which means that it should be capable of withstanding bumps and drops more than any other notebook. Definitely makes it TUF 😉
Inside, the Intel Core i7-11800H CPU (that little square on the middle-left side) is surrounded by a total of four copper heatpipes although is actively being cooled by only three. These run around the back and the left side of the system, attached to two high-speed fans which suck air from the bottom and blow it out the back. It's a well thought out system, typical for mid-range gaming laptops that require better cooling.
ASUS TUF GAMING F15 Full Specifications:
Processor : Intel® Core™ i7-11800H processor

8 Cores, 16 Threads
2.3Ghz – 4.60Ghz (Single-Core, Intel Turbo Boost), up to 45W TDP
PCIE Gen4.0 and Thunderbolt support
with Intel® UHD Graphics for 11th Gen Intel® Processors (350Mhz to 1.45Ghz)

OS : Windows 10 Home 64bit
Memory : 8GB DDR4-3200 SO-DIMM, Max Capacity : 32GB. Additional slot available
Storage : 1TB M.2 NVMe™ PCIe® 3.0 SSD
Display: 15.6in FHD IPS, Anti-Glare, 144Hz Adaptive Sync, 62.5% Adobe sRGB
Graphics : Nvidia GeForce RTX3060 6GB GDDR6 192-bit
Buttons and Ports: USB 3.2 Gen1x2, USB-C x 1, HDMI x 1, 3.5mm headset and microphone 2 in 1 jack x 1
Connectivity: Wi-Fi 6(802.11ax)+Bluetooth 5.2 (Dual band) 2*2;(*BT version may change with OS upgrades.)
Ports:

1x 3.5mm Combo Audio Jack
1x HDMI 2.0b
3x USB 3.2 Gen 1 Type-A
1x RJ45 LAN port
1x Thunderbolt™ 4 support DisplayPort™

Keyboard: Backlit Chiclet RGB Keyboard
Webcam: 720P HD Camera
Audio: DTS software, Built-in array microphone, 2-speaker system
Battery: 90Whrs, 4S1P 4-cell Li-ion
Power Supply: ø6.0, 200W AC Adapter, Output: 20V DC, 10A, 200W, Input: 100-240V AC, 50/60Hz universal
Dimensions: 35.9 x 25.6 x 2.28 ~ 2.43 cm (14.13″ x 10.08″ x 0.90″ ~ 0.96″)
Package Inclusions: TUF Gaming Backpack, Main unit, charger
ASUS TUF GAMING F15: Asus Armoury Crate for easy performance tweaking
For most of the testing that we've done with this laptop, we opted to use the "Turbo" Mode via Asus' Armoury Crate Software, which optimizes gaming performance to the very best of what this laptop can do (It actually also sets it to Windows "High Performance" Mode. It also requires the laptop to be plugged in. Ideally, it should be able to stress the GPU hard enough to be able to maximize the CPU performance. However, it also does increase the fan speed and thus increases fan noise as well.
ASUS TUF GAMING F15: Blazing Fast Screen for FPS Gaming
The screen on the ASUS TUF GAMING F15 is a 15.6-inch Full HD 1080P (1920 x 1080) display, capable of up to 144hz adaptive sync refresh rate. It's rated as just an "IPS-level" panel (which usually means it's a TN panel), but it doesn't really make a huge difference. Although colors are not as good as other IPS panels and it doesn't have the similar viewing angles, it's still very pleasing to the eyes. Details are bright and vivid especially when loading worlds in RPG games. As a gaming laptop, Asus seemingly opted to put a cheaper but faster panel to complement the entire system. For its price, it's pretty much justified, and balances out the performance.
Performance and Benchmarks
3DMark
CPU Profile (v1.0) is a new benchmarking tool from 3DMark which shows how CPU performance scales depending on how many threads are being used. Since the Intel Core i7-11800H is a 16-threaded CPU, the 16 threads scores is similar to the max threads score.
For the other gaming-related benchmarks, 3DMark is one of the most used benchmarking tools for gaming, so we used the tool to be able to gauge the ASUS TUF F15 compared to other similar systems that have been using 3DMark.
Overall it does show that the Physics scores, which are more related towards CPU power, is almost at par or at times more than the GPU power, maintaining a relatively well-balanced system. The Intel Core i7-11800H can definitely be able to keep up with the Nvidia RTX3060's processing power and provide a high enough score, more than average for some systems.
Cinebench
Cinebench is benchmarking tool for measuring CPU single-core and multi-core performance. We used the R23 version which is the most updated version as of the moment, due to its capability to more accurately measure modern and next-generation CPU's. According to our testing result, multi-core score reached 10547 and single core score is 1201 pts, both of which puts it above the Core i9-9880H. This is also not too surprising, since the 11800H is usually scored around 40% higher performance than the i9-9880H, which is just two years old.
CrystalDiskMark
Aside from the CPU and GPU, the ASUS TUF GAMING F15 also has an fast SK Hynix HFM001TD3JX013N Gen3x4 PCIE NVMe SSD inside. Running the Crystaldiskmark benchmark showed that it can have a sequential read/write speed (typically effective in transfers of large files) of up to 3,375MB/s. However, random r/w performance (which is also generally lower than sequential) is a little disappointing, and despite multiple test runs, still shows the same result.
Interestingly, it is possible to upgrade the laptop to a PCIe Gen 4.0 SSD in the future, since the Intel H45 platform does allow it. Gen4 SSD's are little expensive for now though, thus it is understandable why Asus opted to go with a Gen 3×4 SSD instead for the TUF GAMING F15.
Gaming Performance
Now we get to the good part – gaming performance. This is where the ASUS TUF GAMING F15 truly shines for its price point. Pairing the Intel Core i7-11800H with the RTX 3060 GPU (95W) is a great choice for budget 1080P gaming.
Targetting 60 FPS, we tested out the ASUS TUF GAMING F15 in a variety of AAA titles to see whether it can perform well. Same as other benchmarks, we used the Turbo mode in Asus Armoury Crate.
Do take note that some of these games are incredibly demanding, especially Cyberpunk 2077, and we tested the settings that can crank out ~60 FPS. Generally speaking, either putting these games one notch down in terms of graphic quality settings or changing other values such as anti-aliasing can boost performance even more. Some games don't really need the highest settings altogether. Nvidia DLSS definitely helped as well to improve overall graphic quality and performance.
Conclusion
The ASUS TUF GAMING F15 is a great overall package designed with midrange gaming in mind. For most competitive titles such as CS:GO, Valorant, Apex Legends, DOTA 2, it should be able to be sufficient enough for a great overall gaming experience especially with the adaptive 144Hz monitor. For FPS games, although we only tested it with CS:GO, it should give out a pretty similar or better experience with titles such as Valorant and Apex Legends (which are not very system-intensive titles).
Running AAA titles and similar RPG's at highest possible settings, like most laptops at this level, would still somewhat of a challenge. However, medium-high settings should still make it a great experience at 60+FPS gaming. The incredible thing about the entire testing with this laptop is that even with CPU intensive games like Metro Exodus or Shadow of the Tomb Raider, the Intel Core i7-11800H CPU still performed surprisingly well, likely bogged down by the GPU and the palty RAM on the laptop. It would have been even more interesting to see the Core i7-11800H paired with an RTX3070 GPU.
In conclusion, Intel's 11th Gen Core i7-11800H Tiger Lake H45 CPU, combined with Nvidia's RTX3060 GPU is a formidable combination at this price range. Putting ASUS's specialized TUF branding, the solid built quality, as well as a variety of other features such as Thunderbolt 4, WIFI-6, and more makes the TUF GAMING F15 an incredibly great value at this price segment. Asus definitely designed this laptop with Intel's Tiger Lake H45 CPU's at the forefront of its performance value.
For those looking for other laptops with Intel's Tiger Lake H45 CPU's, there's a wide variety of options from other brands. These are available in other partners such as in Abenson, Electroworld, Gigahertz, Lazada, Octagon, PC Express, Silicon Valley and Villman. Price starts at Php56,995.